Best spouse visa/ielts trainer in lahore/pakisran. - Islamabad
Friday, 16 November 2012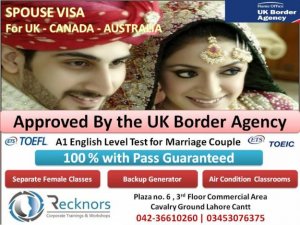 Contacts

seharsyed
03453076375
Item description
If you want to go abroad/living in Pakistan. Having problems in speaking English, German and Dutch languages, so don't worry now we are here to solve yours writing and communication skills problems. On- line classes are also available.
1. Do IELTS with pass guarantee?
2. Do SPOUSE VISA with pass guarantee?
3. Do TOEFL with pass guarantee?
4. Do TOEIC with pass guarantee?
5. Do PTE with pass guarantee?
6. Do EMBASSY INTERVIEW TRAINING with pass guarantee? pleased
Note: if you are doing preparation of any above mention test from any other institution, even though you are warm welcome for assessment test, and our UK qualified and British council trained trainer will evaluate you and same Bands/scores you will get in British council/AEO exam. Consultants are also welcome from all over the Pakistan.
Email: sehar@recknors.com
Face book: User Name: training@recknors.com
Cell no. 0345.3076375
Add : Plaza no 6,3rd floor, commercial area, cavalry ground cantt Lahore.